Double-click here to edit the text.
Copyright © 2004 - 2015 by Golden Eagle Technologies, LLC All Rights reserved
Dry Bulk Material Handling
Material Conveying, Metering and Storage
Particulate Screening and Size / Density Classification
Vibra screw - Screw Feeders both Volumetric and Gravimetric with vibrated screw
Vibra Screw the first vibratory screw feeder providing consistent accuracy in volumetric and gravimetric modes. Custom built to meet your dimensions, or lower coast models available off the shelf. We offer live bin bottoms, and can offer a system with a forever guarantee.
Triple/S Dynamics - Slipstick Horizontal Conveyor: Food , Mineral & Chemical Industries
Pan Conveyor with horizontal slow forward stroke, and very fast return stroke. Dust free with sealed top cover. Handles abrasive minerals, or cumbersome metal scrap, while being gentle to foodstuffs. Supports span up to 20 feet.
Triple/S Dynamics - Pendulum Vibratory and unique Fine Mesh vibrating rail Screeners
We offer screening as find as 325 Mesh. Up to 800 sq feet of screen in a single unit. Low structural vibration in any of Triple/S Dynamics' designs, as well as self cleaning screen features. We have a screener for all industries, too numerous to list, please let us address your inquiry to offer a screener that meets your needs, be it foods / seeds or mineral processing.
Air Pollution Control Equipment , Instrumentation and Ducting
Dry Bulk Material Metering , Conveying and Storage
Vibra screw Live Bin Bottoms: Silo Mount Unite or Smaller Floor Model Bins too
Live Bin Bottoms mount to the discharge of a storage silo or bin, to assure a mass flow "first in, first out" flow condition. The bin activator is fabricated from an ASME dished head ,and hug from the silo by flexible hangers.. The gyrator motor produces powerful horizontal thrusts which vibrate the bin activator, but not the bin / silo. The internal baffle prevents internal compaction and assure free flow of even difficult flowing materials.
Triple/S Dynamics - Separation of particles by size and density
We offer a family of vibratory air separation equipment, 'air jigs' which are applied to separate powders or 'crumb' based on particle size and density through the application of fluidization and vibration. Applications vary from separating stones from corn , sorting seed mixes from each other, to reclaiming rubber crumb from a sandy substrate. Lets test your material in our test lab.
Olds Elevator - Unique vertical Screw where outer casing is spun.
The Olds Elevator allows simple installation, replacing bucket elevators in most applications. This unique device keeps the vertical screw flights stationary while the outer casing is spun. The flow is so smooth and consistant that this device can double as a volumetric feeder. Call us today to discuss you application.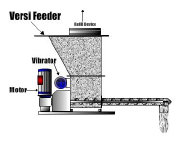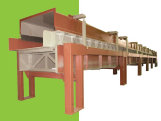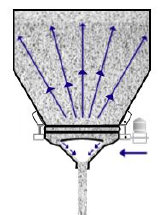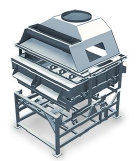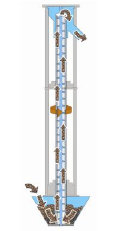 Click on the Photos for more information