Air Pollution Control Products
Dust , Fume and Chemical Vapor Control Systems
Continuious Stack Gas Monitoring Instruments
Scientific Dust Collectors - Baghouse Fabric Filtration
Baghouse Dust Collectors with Double Bag Life Guarantee. 3" spacing between bags !! High inlet baffled drop out section, in addition to a Venturi cleaning nozzle integral to blow tube, assure lowest pressure drop. Retrofits to existing generic pulse cleaning and antique shaker collectors our specialty.
Scientific Dust Collectors - Cartridge Collector with Nano-Fiber Filters
Cartridge collectors are ideally suited for smaller particle dust sizes (less than 50 microns) and low grain loading levels (less than 5 grains per cubic foot). Some examples of dusts that are collected during cartridge collectors are grinding or sandblast applications, welding fumes, laser and plasma cutter fumes, graphite, pharmaceutical powders, nuisance venting of silica, fine chemical and other industrial powders.
Cemtrex / MIP Ducon - Continuious Emission Monitoring Systems ( CEMS )
Cemtrex, Inc. provides individual instruments as well as full service CEMS (Continuous Emission Monitoring Systems) integration. We provide: engineering, installation, start-up, commissioning, upgrades, project management, certification and RATA support, scheduled maintenance and emergency support services. Laser Opacity, CO2, SO2, NOx, CO, NH4, Hg , hydrocarbons and many other properties of your stack gas.
Air Pollution Control Equipment , Instrumentation and Ducting
Dry Bulk Material Metering , Conveying and Storage
Wet Scrubbers, Packed Towers, SCR and ThermoOxidizers
We offer a variety of products for chemical vapor control , selected to meet your specific needs and chemistry of your vapors or mists. Fiberglass (FRP) , Plastics and Metallic materials of construction available. A wise choice for some explosive dusts and a viable solution for some industrial odors.
Fan layout, design and pressure drop calculations are offered as a free quotation service, to assure a proper duct design and fan selection for your elevation. We offer custom designed and fabricated collection hoods. Quick fitting snap together duct, spiral wound, PVC, galvanized and stainless steel available.
Fans : Metallic and Fiberglass (FRP) available
We select the best fan to meet your needs. Manufactured from both FRP and Metal. High efficent backward curved and straight radial blade selections available. Here in the Colorado high country, we assure that your fan is appropriately selected for your elevation, and cold start capable on your coldest day !!!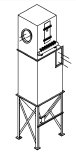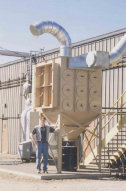 Copyright © 2004 - 2015 by Golden Eagle Technologies, LLC All Rights reserved

Please Call us to discuss your equipment needs 1+ 303-278-9268
Ductwork designed for your specific process
Damper Technology Ltd. - Industrial Dampers of all Types!
Manufacturing a wide range of quality damper products including; butterfly dampers, louver dampers, flap diverters, stack dampers, poppet valves and guillotines. Custom: Mine Ventilation, Sulfuric Acid Service, Gas Turbine HRSG bypass, Cement Plant Pyro-processing and amongst industries served.